Highworth Railway Exhibition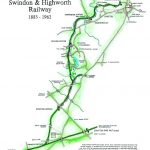 Currently on display in the Highworth Museum, which is located in the Visit Highworth Centre, is an exhibition of items and photographys relating to Highworth Railway. The first passenger train ran from Highworth on Wednesday 9th May 1883 to great celebration. It was on 28th February 1953 that the last passenger train left and on 3rd August 1962 the branch closed. The Highworth Historical Society has curated this display with items from their archive and with exhibits kindly loaned from the public.
Image Credit: Paul Newton-Smith.