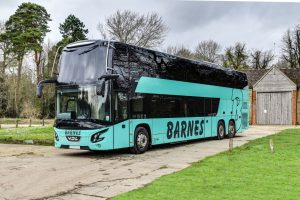 With 100 years' experience, Barnes Coaches are the largest and most modern coach operator in the area. We have a full range of vehicles from 8 to 100 seats and can cater for any requirement. We specialise in a wide variety of areas offering Coach Hire, Holidays, Day Trips, Theatres and Concerts.
Escape the hustle & bustle of everyday life with a Barnes Coach holiday! Sit back and relax whilst Barnes Coaches bring the world to your window taking you on a journey of discovery. With a wide range of UK & European holiday destinations, you're sure to find somewhere you would love to go. To start your holiday in style, we can offer a free home pick up for holidays 4 days and over!
(T&C's apply, see Barnes for details)
Barnes operate a wide range of fantastic day trips throughout the year, so you're sure to find somewhere you'd love to go. Whether it's shopping, Museums, Theatre Shows for the best west end hits, or a trip to the seaside – They've got plenty to offer to keep everyone in the family entertained! View all Barnes trip on their website.
Facebook, Twitter & Instagram accounts is @BarnesCoaches